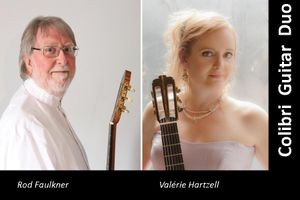 Rod Faulkner, Music Director of the South Norfolk Classical Guitar Circle and Valérie Hartzell, Musical Director of the Cambridge Guitar Society, met at one of Valérie's guitar concerts in Norfolk. The two became friends and officially founded a duo in February 2017. The two are working on an arrangement by Faulkner of El Baile de Luis Alonso by Gimlénez, Dowland (John Langton), Marella (Suite), English composer, English composer Lindsey-Clark (Bagatelles), along with a work by American composer Olga Amelkina-Vera. The first collaborative concert  was on Sunday, August 20th at St Andrew's Church, Covehithe, Suffolk.  Programme included duos by Dowland, Marella, and Andrews along with a solo programme by Valérie which included works by English composers Mark Houghton & Chris Dumigan plus works by Francisco Tárrega, Isaac Albéniz, and Roland Dyens. Colibri will be performing in Norfolk in September and Oxfordshire in October. For more information, please visit the EVENTS page.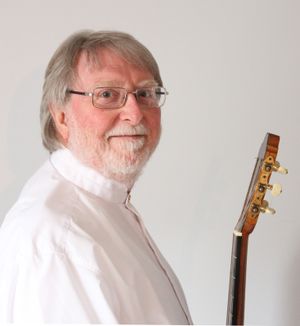 Rod Faulkner initially studied guitar with John Cadman, after which his concert career as a soloist began.
He returned to college to train as a music teacher, and in 1973 received a B.Ed. degree from Selwyn College, Cambridge. After attending a recital at the Wigmore Hall, London by Los Romeros Rod and three other ex-students of John Cadman formed Colibri Guitar Quartet. Through their highly-praised recordings they gained an international reputation, and in England they performed at music festivals and concert halls in London – including The South Bank, The Barbican and The National Theatre - and throughout the country, as well as on television and radio. Rod has also worked extensively with singers, flautists, string players and other guitarists. has toured Northern Spain, performing on Spanish television in Madrid, Segovia, Léon, Astorga and Ponferada.
Recently he has focused on Colibri Guitar Duo, with several works being written specifically for him, and has also worked with John Mills and Cobie Smit as the Colibri Guitar Trio.
He is committed to teaching, spending the past 15 years developing the status of the guitar at Dulwich College, London, and has adjudicated at many competitive music festivals . He continues to teach privately from beginner to performance level students, and is also Music Director of the South Norfolk Classical Guitar Circle.
Valérie Hartzell began her classical guitar studies on a half-size Ramirez at age three. She has a Bachelor's from Peabody Conservatory where she studied with Manuel Barrueco on scholarship and a Master's Degree from Radford University in Virginia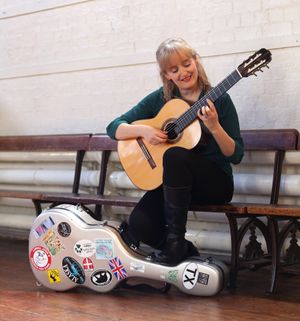 as a  Graduate Teaching Fellow.
Hartzell has performed in Europe, Canada, the U.S. and has appeared on television in Nice, FR and Houston, TX. She has been featured on National Public Radio in Texas and Alaska, U.S. syndicated radio show, Classical Guitar Alive! and on the BBC Radio in the UK. Hartzell has been featured as a guest soloist for the New York City Classical Guitar Society, the Oxford Guitar Society, the Manchester Acoustic Guitar Society, at Arizona State University, at University of Alaska at Anchorage, and at Clare Hall at Cambridge University. Recently, she gave an eleven-concert tour of Alaska as part of Duo Amiche (with mezzo-soprano & pianist, Tamara McCoy) and a seven-concert tour of England, including a London debut.
She has performed in over 30 festivals, including the 2010 ChamberArt Music Festival in Madrid, Spain, the Annual Classical Guitar Fall Festival in Oneonta, NY, the Pennsylvania Academy of Music Festival where she shared the stage with Eliot Fisk, Guitaromania in Agen, France, and at the Menil Community Arts Festival Performance at the Rothko Chapel.
She is a prizewinner in 8 international competitions including 1st prizes at the 10th International Guitar Competition "Simone Salmaso" in Italy and at the Concours de Guitare Classique Heitor Villa-Lobos in France.
Currently, Hartzell lives in Bedfordshire where she maintains an active concert career both as a soloist and as a chamber musician. She is also the Musical Director of the Cambridge Guitar Orchestra, UK and the Artistic Director of the annual 'Classical Minds' International Guitar Festival and Competition held in Houston, Texas.