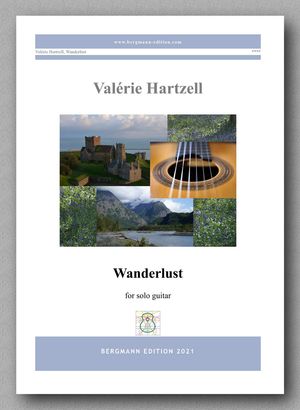 I am honoured and very excited to have my music published through Bergmann Editions.
My trilogy, Wanderlust, is now published! You can either self print the score as a PDF or buy a physical copy of the score. Go to: https://bergmann-edition.com/products/hartzell-wanderlust?variant=32392094908499
Wanderlust consists of three short stories: Through the Ages, Story of Us, and It Takes Two.
Through the Ages is a travel through time, Story of Us is the physical travel, and It Takes Two travels along the length of the guitar. The entire suite is dedicated to American guitarist Dr Candice Mowbray, who is not only an accomplished performer but also a champion of women composers. She has given lecture-recitals on women composers at prestigious music series such as the Guitar Foundation of America, the Ibero-American Guitar Festival at the Smithsonian Museum of the American Indian, and the John E. Marlow Guitar Series. Like my composition, Candice travels through history and time, bringing women's music to light.